At Abriendo Mentes, our programs are thoughtfully developed to address the unique education and community development needs of the villages where we work in rural Costa Rica. Our comprehensive approach to community-based education focuses on youth development, adult education and job skill development, women's economic empowerment, and community development.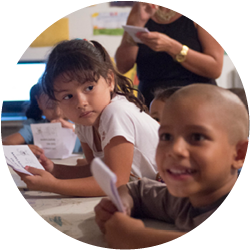 ENGLISH CLASSES
Abriendo Mentes offers free after school English classes to local elementary school children. Our curriculum is based on the public school's English program so that we can help our students perform better in school, while also improving their pronunciation and reading and writing skills. The majority of our teachers and volunteers are native English speakers. Our teaching philosophy is to incorporate games, art, music and experiential learning into the classes as much as possible.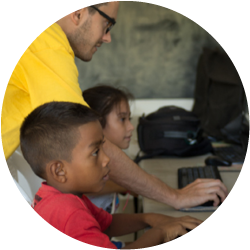 COMPUTER CLASSES
Both of our sites feature computer labs with Internet connections so that our students can improve their technology skills. While some of our students are just learning to use a keyboard and mouse for the first time, others are learning programming or how to use a 3D printer with our talented IT teaching team. Our primary goal with this program is to teach basic computer skills and expose our students the many possibilities the IT field has to offer.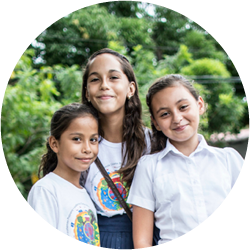 PROGRAMMING FOR TEENS
Grupo de Jovenes de Potrero (GJP) is our program for teenagers. We focus on promoting leadership development, healthy lifestyles and enthusiasm for education. We offer bi-monthly interactive and fun activities, including career development talks by local professionals, sporting tournaments, workshops on leading a healthy lifestyle, and much more. GJP is a collaborative program with our partner organization Lacrosse the Nations.
EXTRACURRICULARS
Our students also have the opportunity to participate in many extracurricular activities outside of regular English and Computer class. These activities vary by site, and include but are not limited to an environmental education program, surf club, swim club, art classes, Fun Fridays, cultural celebrations, talent shows, field trips, and more.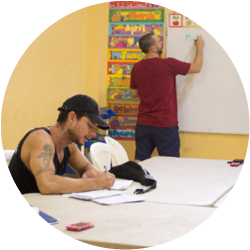 ENGLISH CLASSES
A strong command of the English language is a requisite in many jobs in the local tourism industry, however many residents have never had the opportunity to study or learn the language. We help local adults improve their language skills, thereby increasing their employment options, through conversational, private and vocational English classes.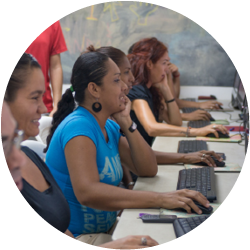 COMPUTER CLASSES
Computer skills are also vitally important for local adults in order to feel comfortable using information technology. In our computer labs, we focus on teaching basic skills for our beginner students such as typing, how to use email, and how to browse the Internet. For our more advanced students, we help build their systems and office skills, Internet presence, and computer coding.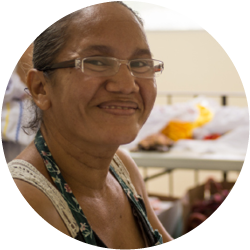 OUR WOMEN'S PROJECTS
Abriendo Mentes has had programming just for women since 2011. We are constantly adapting our programs to serve the evolving needs of local women, always with a focus on self-esteem, personal growth, economic empowerment and health and wellness. Our women's programming changes throughout the year, but some of our most successful women's projects have included self-defense workshops, arts and craft classes, baking and cooking classes, a sewing microenterprise and community exercise classes.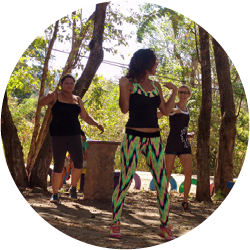 ZUMBA
We believe that a healthy community is a strong community, but very few affordable options exist for local women to exercise. Abriendo Mentes has offered ad-hoc Zumba classes to local women off and on for several years, and under our current partnership with local teacher Ruth Gonzalez Ortega, we are proud to be able to support classes three times a week. Classes are open to the entire community. More info in the Classes section of this site.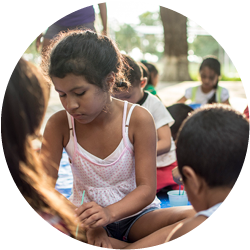 GRASSROOTS INTEGRATION
One of the leading factors of Abriendo Mentes' success is our complete immersion into the community. We live down the street from our classrooms. We shop in the same supermarkets as our students. Those who live in the communities where we work are our neighbors and our friends. Because of the close nature of our relationship with the local community, it is very important for us to invest in the areas where we live and work.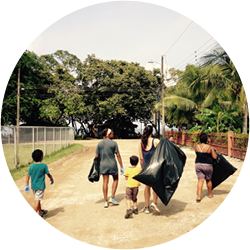 COMMUNITY PROJECTS
We accomplish this by caring for the local environment through regular beach and community clean-ups; encouraging the well-being of our neighbors and ourselves by supporting exercise programs; and investing in the physical community itself by collaborating on remodeling, building, and beautification projects. Some ongoing and past projects have included monthly beach cleanups through our membership in the local Bandera Azul committee, financial literacy classes, health fairs, community surveys in coordination with the University of Costa Rica, community recycling campaigns, etc.